As a result of an idea launched in 1997, the Oxalor household waste treatment and valorization plant at Lezay, France, has been officially inaugurated on February 15th 2014.
The OXALOR Group's CEO Michel Mazon and the many partners of this project, a.o. the Community of Communes of the Lezayen, the neighbouring Lusignan, partners in the SEM du Mélusayen, the Region of Poitou-Charentes and the mayor Joseph Joubert have pointed out the importance of this technology which gains growing international interest. Hence the presence of representatives from the United States, Canada, Madagascar and Senegal at the inauguration ceremony… The several speakers pointed out the financial and environmental gains of this technology.
Segolène Royal, President of the Region, pointed out that she had always been a fervent supporter of this technology opposing herself against the installation of an incinerator in the Marais Poitevin area. She also pointed out the performance of the technology in terms of waste recovery volumes, its positive effects on the taxpayer's purchasing power thanks to its reduced running cost as well as its environmental impact.
Michel Mazon, CEO of the Oxalor Group and inventor of the technology, talked about the challenge this adventure was 11 years ago considering the event of the inauguration as a major step….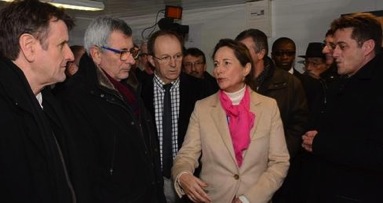 Last Saturday, Segolène Royal, President of the Region inaugurated the OXALOR household waste treatment and valorization plant at the Plaine-du-Chateau at Lezay, France, guided by Francis Rogeon, President of the "société d'économie mixte du Mélusayen"
Article and Picture from "La Nouvelle République , le 18 février 2014" - the original transcription of this article can be consulted on the French version of the website. The English texts represent only a rough summary of the article or part of it for informative purposes only and can therefore not be considered as an official and accurate translation of the French article. A French version is available on the French website and readers are invited to consult the original article for exact information.
Video of the inauguration of the Oxalor plant at Lezay, France on 15 février 2014 :